What's New
Expanding our horizons...
Saguaro Interior Finishes is pressing forward with its goal of providing our expert application and customer service at a national level. We have already begun to spoil our clientele with trademark finishes and expertise that is unique to Saguaro alone.

We have recently collaborated with the design team of Robb & Stucky based out of Las Vegas, providing them with wall finishes within their beautiful showroom accentuating their many vignettes . These finishes can already be seen in the model condominiums of the internationally acclaimed Mandarin tower at City Center. Saguaro is proud to be included in the design of the City Center, and looks forward to the many condominiums and penthouses in our near future.

We are also excited about some upcoming opportunities in California, Utah, and areas in Northern Arizona.
Training
Our team of Artisans are traveling the world each year to learn the latest in plaster techniques.
Recently, Master Artisan Bill Borselli and Max Peevyhouse traveled to Verona Italy to study new tint technologies under the most experienced artisans of the world.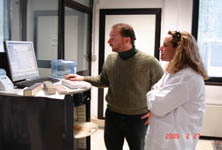 Master Artisan Heith Peevyhouse spent time this year training under Croft of American Clay. He received application training in some of American Clay's most popular products.
Events
We have recently become industry partners with the ASID and IIDA and working diligently towards our certification to host educational classes at our showroom for designers of the valley.
Meet Our Artisans
Master Artisan: Bill Borselli
Bill Borselli is a third generation drywall finisher whose duties at Saguaro Interior Finishes include; Lead Estimator/Project Manager, Color Sample Coordinator, and Logistics Controller.



Bill is a color specialist, having a background in oil painting and over 15 years of application on the canvases of custom home interiors. Bill has attended numerous schools in the U.S., studying plasters, color, and gilding. He also attended, upon invitation, Venetian Plaster training in Verona, Italy. Bill Borselli travels with a family tradition of ethics and genuine desire to provide an unsurpassable product and service to Saguaro's clientele.
Email: billy@saguarointeriorfinishes.com Direct Phone: (602) 292-5151
Master Artisan: Heith Peevyhouse
As a third generation Saguaro finisher, Heith is highly skilled in application and is an authority on color. Heith has an education that boasts the credentials of Modello Design School, School of Italian Plasters, Variance Plaster Training, and extensive training with American Clay.

For over 7 years, his knowledge and genuine character have been continually recognized by our distinguished clientele. Heith lends himself to our reputation through his expertise and code of ethics. While specializing in large projects, both commercial and residential, no project is too small for his dedicated attention. Saguaro values Heith as an employee with a long future, due to his proficiency, performance and precision.
Email: heith@saguarointeriorfinishes.com Direct Phone: (602) 540-6302
The Best of Professionals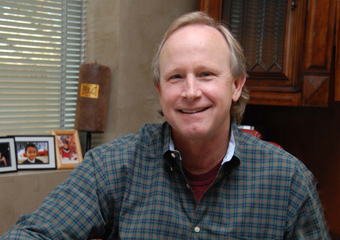 Principal: Max Peevyhouse
Max is the middle son of Gentry Peevyhouse, founder of Saguaro Drywall. With over 36 years of experience, Max serves as the principal of Saguaro Drywall, Aspen Construction, and his beloved Saguaro Interior Finishes.


His love of color has led him to numerous schools across the US studying faux and plaster techniques. Max has traveled to Italy in search of new techniques and products to add to our current line. He also has extensive experience in all phases of metal framing, drywall, and plaster and his current role is as a trouble shooter / problem solver. His reputation in ethical business practices, quality, timeline achievement, and competitive pricing, sets the standard for all his employees
Email: max@saguarodrywall.com
Field Superintendent: Levi Whitlock
Levi is the key contact in the field. Levi is a man who prides himself as a husband, father of 2, sportsman, and dedicated company man. He treats each house as his own as he executes logistics, manages artisans, quality control, and facilitates communication.

Levi's eye for perfection stems from 15 years experience including 10 years training directly with Bill Borselli. We encourage you to ask our references about Levi, overwhelmingly the response speaks of deadlines and quality being delivered to a happy customer. He truly gives a piece of himself to each project.
Email: levi@saguarointeriorfinishes.com Direct Phone: (602) 540-6284
Safety Director / Office Management:
Amber Peevyhouse
Amber has been with Saguaro Drywall for 12 years and has become a vital asset to the Interior Finishes team for the past two years as she has come alongside Artisan Bill Borselli to assist him with his marketing visions and his goal of taking Saguaro Interior Finishes into a national market.

She is the blood flowing through the veins of Saguaro as we rely on her for managing the office, her accounting adeptness, information systems, ensuring safety compliance, and keeping us on track. Her competence facilitates the inner workings of our organization, and she is the main point of contact within the office.
Email: amber@saguarodrywall.com Direct Phone: (602) 443-0540 ext. 105